Tanzania Safaris: Serengeti, Ngorongoro Crater, and Lake Manyara
I never thought we'd get so close to the lions. A small pride of females and cubs were resting beneath a tree beside the road and we just coasted right up to them and drew the Landrover to a stop.
The lions blinked at us disinterestedly. We were less than 20 feet away.
I was standing in the rear of the vehicle, looking out of the open, retractable roof. "I can't believe this," I whispered. I ducked down inside the vehicle to grab my camera.
When I popped back up I caught the attention of a large, grizzled female. The lioness sprang to her feet, took a few silent steps forward. She had that blazing, passionate gleam in her eyes that is common to all cats, and she looked directly at me. She took a few more steps toward the vehicle and then crouched as if preparing to pounce.
I dropped back into the truck, hissing "Drive, drive, drive!"
My mother, seated next to me, looked out the window and gasped.
Alex, our driver, was already on the case. The truck sprang to life and we roared away from the scene.
"Don't worry, don't worry," Alex said calmly.
But I'd seen too many photographs of big cats standing atop safari vehicles to not worry. I couldn't help thinking about what would have happened if the lion had leapt atop the truck: her falling into the backseats – trapped, panicked – twisting around, lunging at us...
Yo Mamma!
My mother had always wanted to see the animals in Africa, and she wanted to see what the vagabonding was all about too, so she joined me for a safari in Tanzania. (Tip: if you're looking for an unforgettable parent/child bonding experience, try navigating the mad streets of Dar es Salaam together.)
There are two main ways to arrange a safari in Tanzania:
Buy a package from home. This method is expensive, but time-efficient and generally reliable.

Show up in Arusha and choose a company firsthand. Quality, inexpensive safaris can be arranged this way, but you can pay dearly in terms of time and aggravation.
Armed with extra time, two recommendations, and a masochistic streak, I chose method number two and we headed up to Arusha.
Enduring Arusha
There are dozens of safari outfitters in Arusha who essentially offer the same service. Adding to this confusion are hundreds of touts: aggressive, commission-based hawkers.
The touts were on us from the instant we set foot in town. Three "greeters" carried our bags to our rooms, talking nonstop about their companies. One offered a free taxi for the entire day – provided that we check out his office first. Having developed extreme tout intolerance, I brushed him aside.
The first safari operator we saw was an upscale outfit with three different packages:
Basic camping (miserable, army surplus-looking tent, rented sleeping bags, pit latrines, prison-quality meals): $145 per person per day

Deluxe camping (dome-style tent, shower tent, school cafeteria-quality meals): $170 per person per day

Lodge (4 and 5-star hotels, nightly entertainment, swimming pools, American-style food-orgy buffets): $180 per person per day
We gasped at photos of the severe basic package, briefly entertained the deluxe camping option, then considered the small price leap to the lodge package. Food for thought. We left to check out our next recommendation.
The tout with the taxi was waiting out on the street. He pressured us to visit his company. We declined and caught a cab of our own.
The next company oozed competence and efficiency; they were less-expensive too ($150 per person per day for the lodge option). We thought it over for a short while and then plunked down cash for a four-day safari.
The (now creepy stalker) taxi tout was waiting again on the sidewalk. "You decided?" he asked.
"Yes, we have."
"Have a nice time," he said before sulking off. Had he been less pushy and pathetic, we might have humored him. But, as in dating and job interviews, desperation is a turnoff.
A Happy Family
Although she introduced herself as Sandy, our safari driver Alex referred to my mother only as "mom" or "mamma" for the duration of the trip. Initially a little jarring, this was actually a show of respect, and the three of us soon melded into one happy family.
Originally from Kilimanjaro, Alex was close to me in age and very soft-spoken. He'd earned a degree as a wildlife guide, and was knowledgeable about the parks and animals we were about to see.
Serengeti National Park
It was an eight hour drive from Arusha to our lodge in the Serengeti, and only two hours of the drive were over paved roads. As compensation, the scenery grew more stunning as the roads grew more brain-battering and dusty.
We drove past pristine forest and rolling green hills near Lake Manyara; through rich, heavily-cultivated valleys; and up to the top of volcanic Ngorongoro Crater, where we stopped to have lunch.
The landscape flattened out after the Crater and began to look more like the Serengeti you see on television. Animals started appearing too. Alex alerted us excitedly whenever we passed anything on four legs.
"Look Mamma! Zebra over there!"
"Mike, look! Impala."
"Look at the beautiful Thompson's Gazelles, Mom!"
The mostly treeless plains of the Serengeti are so vast that you seem to take in the whole world at a glance. Brittle bronze grass stretches over enormous open stretches. Low, hazy mountains loom on the distant horizon.
We saw our first group of lions on the drive into the park – a male and two females lounging under a dwarfed tree.
Living the Highlife
Our lodge in the Serengeti was the most luxurious place I've set foot in in the past 10 months. A sprawling, Frank Lloyd Wright-inspired structure built around giant gray boulders, the lodge had a pool shaped like a battle axe and a commanding view of the park. The buffet-style meals were top-quality, although I was hoping for a more adventurous selection on the barbecue.
Close Encounters
Our second day in the park was filled with incredible animal sightings. The plains were packed with hoofed animals: gazelle, impala, zebra, wildebeest, antelope. Ostriches hovered on the horizon like low-flying blimps. A troop of around 100 baboons paraded single-file across a road. Solitary giraffes sauntered through the scrub. And of course there were the lions.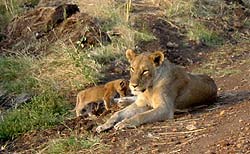 Patience is paramount when observing lions. Initially, they did little more than yawn and slumber. But, given time, dramas unfolded. A mother returned from a hunt to be pounced upon by two adoring cubs. A pair of females spotted inattentive zebra in the distance and stole through the high dry grass. A female padded down the road with a tiny, two-week-old cub tailing her. Mother and cub plopped down in the center of the road. Fearless Alex drove us close enough to hear the cub mewing like a housecat. After a long rest the mother and cub rose and walked directly past our vehicle – less than three feet away – in what was literally the most frightening and exciting moment of my life. We all breathed a sigh of relief when they had passed. "Now
that
was dangerous," Alex admitted for the first and only time. "A new mamma can be very protective."
The best thing about the Serengeti is that you feel like you have it all to yourself. The park is so vast that we saw less than a handful of other vehicles throughout the day.
Ngorongoro Crater
Alex described the Ngorongoro Crater as the eighth wonder of the world. Making our slow descent to the crater floor on day number three, I could see why. The place is like a giant snow-globe packed with almost every species of animal in East Africa. Herds of zebra and wildebeest – 1000 or more strong – grazed docilely, hyenas slept in the mud, elephants tromped through the trees, baboons strutted around like they owned the place, lions dozed in the shade.
Compared to the Serengeti, the animals in the Crater seemed remarkably tame. Zebras took no notice as we approached them. Lions walked right up to safari vehicles – one big male even scratched his back on a Landcruiser's bumper. And two bull elephants wandered right into the picnic area, causing general hysteria; some people ran from the elephant, back to the safety of their cars, and some people ran toward the elephant to pose for photographs. A truckload of Indian photographers enhanced the excitement by shrieking, "Don't be crazy! You're risking your lives!"
Ngorongoro Crater felt crowded. Safari vehicles raced around in herds of their own – noisy, skittish beasts with white exoskeletons.
Lake Manyara
Lake Manyara is the smallest game park in Tanzania and is completely different in appearance from Serengeti and Ngorongoro. Green trees and grass and shrubs dominate the hilly landscape. The lake itself sits in the middle of the park and is home to hundreds of hippopotamus.
Ten minutes into the park we spotted a giraffe and stopped to observe it. As it munched leaves off the high canopy of a tree, another giraffe appeared behind it. Then another. And another. Eventually, thirteen giraffe came out of the bush and marched across the road in front of us.
Lake Manyara is famous for its elephant, with more than two thousand in the park. I think we saw every single one. Huge extended families fed on the trees and crashed through the bush. Pairs of elephants drank deeply from the river and showered themselves cartoon-style with water from their trunks. Again, we were able to get incredibly close to the animals – near enough to hear them chew and snort and break wind.
Fire Under the Hood
Our Landrover took a terrible beating on the roads that connect the parks; somewhere between Serengeti and Ngorongoro we blew half of the rear suspension. Things got really bad on the way out of Lake Manyara. The vehicle was reluctant to start and then spluttered suspiciously.
A short while later, smoke and fire blazed out from under the hood. Alex slammed the vehicle to a stop and ordered, "Stay in the car," as he hurdled out and opened the hood.
Stay in a burning car? Lions or no lions, Mom and I were already twenty strides away from the vehicle, bracing for an explosion.
The electrical system was shot; most of the wiring had melted into single black glob. So we waited. It was mid-afternoon. Other vehicles would come along. Hopefully.
In a stroke of good fortune, the first vehicle to approach was driven by a man who'd fixed this problem before. He reached into the engine and yanked out the remaining wiring. "These older Landrovers are all mechanical," he explained. "This baby will run without any of this junk." He brought a small length of wire out of his toolkit and reconnected the brake lights and turn signals. He got back into his vehicle, gave us a push start, and we were on our way.
Mom and I applauded when we finally hit paved roads. Fraught with danger and intensity, beauty and tenderness, close encounters and mechanical failures, the trip had been a thrilling, extraordinary success. Tired and content, we sped back to the hustle and hassle of Arusha.


What do you think?
Posted on August 26, 2003 10:38 AM