Famous "Lost" City of Petra, Jordan
In 1812 a young Swiss explorer named John Burkhardt disguised himself as an Arab (he spoke perfect Arabic) and hired a Bedouin guide to take him into the Arabian Desert. Under pretext of making a sacrifice at the Shrine of Aaron, Burkhardt entered the desert with a greater ambition: he'd heard talk of a mysterious city within impenetrable mountains, and he suspected it was Petra, lost city of the Nabataeans.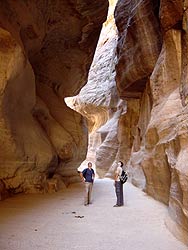 Burkhardt no doubt knew he was onto something when he reached the Siq gorge, a deep, winding ravine sculpted by centuries of wind and water into otherworldly bulges and hollows and scoops and overhangs of smooth, colorful sandstone. A few Egyptian-style obelisks and crude tombs near the gorge entrance hinted at splendor to come. Burkhardt and his guide continued through the narrow, 1.5 kilometer-long chasm until Siq gorge finally offered up its secret: Al-Khazneh Farun (the Treasury), an ornate, pillared, 45-meter high structure carved into the face of a red sandstone cliff. Burkhardt (who went on to "discover"
Abu Simbel
) was the first Westerner to admire the building in over 700 years.
Nearly two hundred years later, I followed Burkhardt's route through winding, suspense-building Siq gorge to gaze upon the Treasury and other monuments of Petra. Although Petra is anything but a lost city these days, I experienced the same awe and excitement and sense of discovery that Burkhardt must have felt all those years before.
A Strategic Trade Junction
The city of Petra was founded in the 1st century B.C. by the Nabataeans, ancient Arab nomads who settled in the area because of the abundant water, natural fortification provided by the mountains and the gorge, and strategic location along the spice route.
The Nabataeans levied safe-passage tolls on virtually all trade that passed from the East to Europe and Africa. They grew rich in the process, and were also influenced by a variety of different cultures, as evidenced in their unique blend of architectural styles.
Building by Carving
There are over 800 tombs, dwellings, and other structures in Petra, and only a few of them are freestanding. The rest were carved by hand into the sheer faces of sandstone cliffs.
Nabataean architecture is represented perfectly in the Treasury. Over 45 meters tall, the Treasury was carved out of the red and yellow sandstone in a top-down fashion by men who must have been equally skilled at rock climbing as they were at carving. Built as a tomb for a Nabataean king, the Treasury gets its name from a long-held belief that it contained a great stash of riches in the urn at its apex. Hundreds of bullet holes in the façade, fired in hopes of dislodging this ancient cache, appear to discredit this theory.
At the western edge of the site, up 1,050 stone steps, the Monastery is another standout structure. Like the Treasury, the Monastery sports massive Corinthian columns in its rock-cut façade. The interior of the structure is an enormous open hall used for unknown purposes before being converted to a church in the Byzantine era.
The Royal tombs are equally impressive, notable for the brilliantly-colored sandstone they were carved in, some of it blood-red
Rerouted into Obscurity

Attracted by its power and wealth, the Romans annexed Petra in the 1st century A.D. and the kingdom was added to the Roman province of Arabia. Initially, the Roman/Nabataean union meant good things for Petra. The theater was expanded, new structures were built, and the main road was paved and adorned with an arch.
This period of prosperity didn't last long. As Roman control increased in the area, alternate trade routes were developed and Petra gradually fell into obscurity. By 1,000 A.D. the city was known only to the local Bedouin tribes
Take a Hike
A visit to Petra is as much appreciation of nature as it is of an ancient culture. The rugged, mountainous desert setting is among the most dramatic landscapes in the world. Even if there were no monuments, the jagged mountains, brilliantly-colored sandstone, and suspenseful Siq gorge would make Petra a world-class attraction (think Sedona, Arizona).
Half the fun of experiencing Petra is just climbing through the harsh, stunning landscape and stumbling upon tombs and ancient dwellings at random. The sheer abundance of these sites can't be overstated. After three full days exploring Petra I feel like I've seen just a fraction of its offerings. And excavations are constantly turning up new finds.
The Journey is the Destination
Petra demands more out of visitors than most ancient monuments. Experiencing the ancient city involves lengthy hikes through hot, rugged terrain (tour busses can't fit through Siq gorge), not to mention the effort in getting to Wadi Musa, Jordan (the town nearest Petra). But, in many ways, this is part of the appeal. You have to work to get at Petra's secrets. And, like many things in life, the effort put in makes the rewards more personal and profound.

sources:
Petra - the Pink City of the Desert, Stefania Belloni
: : :
Anecdote about Jordanian hospitality
After our second day at Petra my friends James, Scott and I took a cab back to our hotel. The trip cost one Jordanian Dinar ($1.50).
Later that evening we saw the cab driver at a restaurant. He approached us with a serious look on his face and said, "Who was sitting in the front seat?"
"I was," James said.
"I found this one Dinar coin on the front seat," the driver said. "I think it might be yours."
James checked his pockets. "You know what? I think it is mine. Thank you."
The cab driver handed him the coin and smiled.
Although just a small gesture, that was the single most profound act of honesty and hospitality that I've encountered on this trip. In fact, I don't think I've encountered anything like that at home. Furthermore, I'm not sure if I would have given that money back.
What do you think?
Would you have given that dough back?

Where have you encountered the greatest hospitality?
Posted on June 30, 2003 09:42 AM